Shopping Cart
Your Cart is Empty
There was an error with PayPal
Click here to try again
Thank you for your business!
You should be receiving an order confirmation from Paypal shortly.
Exit Shopping Cart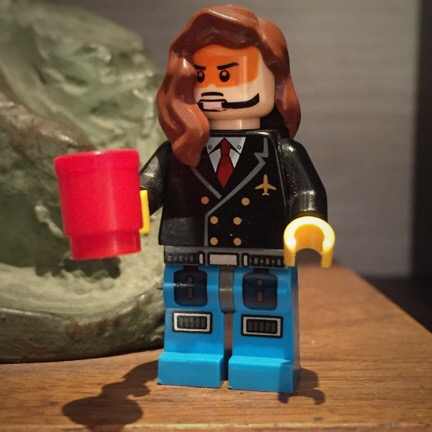 Sequence is a big part of consequence.  That line, or one like it, certainly that concept, is from Ali Smith's first essay "On Time" in 'Artful.' She asks whether sequence is essential to meaning. Although I'd never considered the question, because I'm not that deep, I do have an answer. I'm really not that deep at all -- and I make up for lack of depth with bravery and confidence. So I'm going to tell you I have THE answer to her question. Yes. Sequence is essential. Sequence equals meaning.
I want to tell you a story.
I was on my way to the Sirenland Writers Conference in Positano, Italy. On my flight I sat next to a seriously good looking guy who I doubt would have chatted with me had we not been seat mates and (as it turned out) had he not been feeling vulnerable. Quick aside -- strangers become more and more good looking the more you learn their stories. This awareness could well serve many a single person in his 20's. Or hers. Of course, we only learn this truth when it's no longer needed… Ah, youth. Wasted on the young, and all that.
Anyway, he was cute. Dark hair, sunglasses, hip sort-of five o'clock shadow. Like George Michael on a great day in the '80s, only more so. The steward kept marching by, slamming overhead compartments closed and the stuff they do pre-flight in the aisles. "Did you see that?" my friend asked, rattled. "Why's he back here, watching me?" And I said no, he's just doing what he's supposed to do. Then the steward disappeared up front. My friend said something about the pilot and the uniform of the steward and the gold wings on his lapel. Far as he was concerned, something wasn't right.
Looking back at Ali Smith's question about sequence, had I known already what my friend was doing, I'd have understood it in an instant. But we had to fly a while and have a good long conversation to untangle all the timelines -- which then delivered me the meaning. One thing to note was those wings on that guy's black suit lapel. To my friend, it meant he was a pilot which, if true, should have meant he'd be up front to prepare to fly the plane. His being in the back is what threw him and got him talking, carefully, to me.
I'm going to try to do this without naming names, because, Consequences. Let's call my seat-mate fellow Seat. He's from a country where you can't be gay, although he is, and he's a pilot. Earned his wings.  On his airline, that gold pin is not for flight attendants but for pilots.  His partner, who's older than Seat and from a country where being gay is celebrated, was a flight attendant who'd wanted to become a pilot but couldn't pursue that dream due to money troubles.  He had to content himself with drinks carts and slamming overhead compartments. So he's not a pilot as he'd hoped, but he has plenty going for him. Guy's got guts! He's the one who'd braved proposing marriage to Seat. There were many things he did and said that made Seat fall in love. Things that made Seat scared and happy and giddy with withheld commitment that he was finally ready to deliver. Seat was flying to Rome to surprise his man and celebrate. A bold new step that could go awry, especially if the timing of our delayed flight messed up the surprise. No wonder he was nervous and excited. As he told me more, I began to understand.
His parents were so angry when he'd come out that he then renounced his homosexuality at home, while trying to be true to himself where and when it was safe to do so. He couldn't be a pilot if he was openly gay. I began to understand how complicated his situation was. I say began, because let's face it, this is a thing I will never fully understand. There were lots of people in his town, he said, who do their own things only when and where it's safe. But those times and places are moving goal posts -- they never stay reliable. Some gay men might grow their hair, he said, and wear it like a lady's. Some might wear women's clothes in private or jewelry when they feel they can. Many people drink beer in secret clubs that come and go. Some dare to speak their minds. Seat had the audacity to speak his mind to me and others here and there, he explained. He found ways to speak his mind in tattoo ink on his body, where usually it's hiding under clothes.  Whatever your issues, wherever you're from, we learn hard lessons about how much we can and reveal.  Everyone learns in some ways, it's dangerous to be yourself.
I listened. I thought whatever would come of the literary week in Positano, this flight, this new friend, will be my most important gift. I should find a way to honor it and the challenges of his situation. I hugged him good-bye in Rome and wished him well as hard as I've ever wished a thing.
And then I shelved his story in my mind. It's not my thing to tell, I thought.  And this is not the time.
The writer's conference started, though, and something shocking happened. Our instructor brought his 10-year-old twins to our classroom. My novel features 10-year-old twins! Eager to find meaning in the week with this important writer, I admit I took a soupcon of encouragement. The twins set up bowls in the back of our room, and we were to go, in turn, and pick a piece from each bowl. We could look or close our eyes and take our chances. I have a habit, sometimes, of paying attention to the wrong things, so I didn't know what we were doing. I let most of the room do their thing and then went back to the bowls myself. Without looking, I plucked out one small plastic piece from each. I returned to my chair and saw I had tiny bits of Lego body parts to stick together. A pair of legs in trousers with black boots. And then the torso. A black suit jacket, white shirt, red necktie. On the little man's lapel, gold pilot's wings. His little yellow Lego hands reached for his accessory I'd pulled out from another bowl. A giant stein of beer. I attached the head and hair. George Michael shades. A small, dark swipe of mustache. And his hair was long and like a lady's.  In my hand, in perfect Lego metaphor, I held the gift of my time with Seat.  If I'd pulled out those little pieces any other time, there would have been no meaning.  And it would not have given me a thing to write about that made this story mine.
We did some prompted writing activities with our little Lego people, but the little man himself was the important thing for me, by far. Nearing the end of the conference, I took him out to photograph him in places near our hotel. A lemon tree. An iron railing. An Italian post box... and then a gust of wind got him. He landed far below, in a private garden. I could see him lying on his back, far below, but there was no way I could get in that garden.  I walked to the Missoni store to console myself with retail therapy, as Italians do. I'm just weird enough that I told the people in Missoni about my little Lego man, and they vowed to find the owner of the garden and attempt a rescue. I was to come back to the store in the morning, which I did. They had my little man, and we took more pictures with the season's new Missoni scarves.
I've kept him in my office ever since. He reminds me that we are not in charge here. Our only job is to notice, be generous and kind, and tell the truth. Be a little brave and weird sometimes. Don't exploit someone else's story. Don't betray a friend, but clinch the deal on your important memories in whatever way you can. Rescue your Lego men with unexpected help. Give good hugs in airports. Wish your wishes for the best. Wait till a thing makes a story yours, so you can tell it. That's what my little Lego man is for me. Write what you think you can. If you think for just one minute we're not already all connected, remember that you're wrong.
Categories: coincidence, connection, chance, mental health, gender
Comments are disabled.
/